Hello! I'm Aljun Majo, a Web Developer and SEO specialist in the Philippines. I've been in freelancing for over ten years. I focus on good, local SEO solutions. I aim to boost your website's rank and make it more visible in local searches. When that happens, more people will find and visit your site, helping your business grow. Many customers appreciate me because of my dedication to good service and top-quality SEO methods. I believe my work stands out in the industry.
Feel free to reach out if you're looking to enhance your website's ranking in local search results using top-notch, SEO-friendly strategies. You can reach me at (+63)967-017-2697 or drop me an email at [email protected]. I'm also offering a website technical SEO consultation.  
Get in touch with me immediately if you're in need of Local SEO Services.
So what is Local SEO? It's a key factor in promoting your business online to local customers, and it's a bit different from the traditional SEO you may be familiar with. Let's get into its definition, importance, and how it stands apart from traditional SEO.
Definition and
importance
Local SEO increases your online presence to connect with local customers. It combines search engine trends, geographic focus, multilingual SEO, user experience, and conversion tactics to make your business stand out in your area. In simple terms, it boosts your business's appearance in local Google search results. If you're not appearing prominently when people search locally, you're losing potential customers. Given how many people rely on smartphones and local searches, Local SEO offers a great chance to draw more customers. It's essential for business growth.
How it differs from
traditional SEO
Although I've mentioned the term 'Local SEO' quite a bit, you might be wondering how it's different from traditional SEO, and that's a great question to ask.
Local SEO and traditional SEO are not the same. Here's how they differ:
Global SEO comparison
Traditional SEO targets a global audience, while Local SEO focuses on reaching people in a specific area.
Traditional SEO drawbacks
Traditional SEO might not reach the right audience for local businesses, which is where Local SEO comes in.
Local SEO misconceptions
People often think Local SEO is only for small businesses, but it's also beneficial for larger companies with local branches.
The evolution of SEO techniques has significantly impacted e-commerce, making Local SEO a necessary strategy for businesses.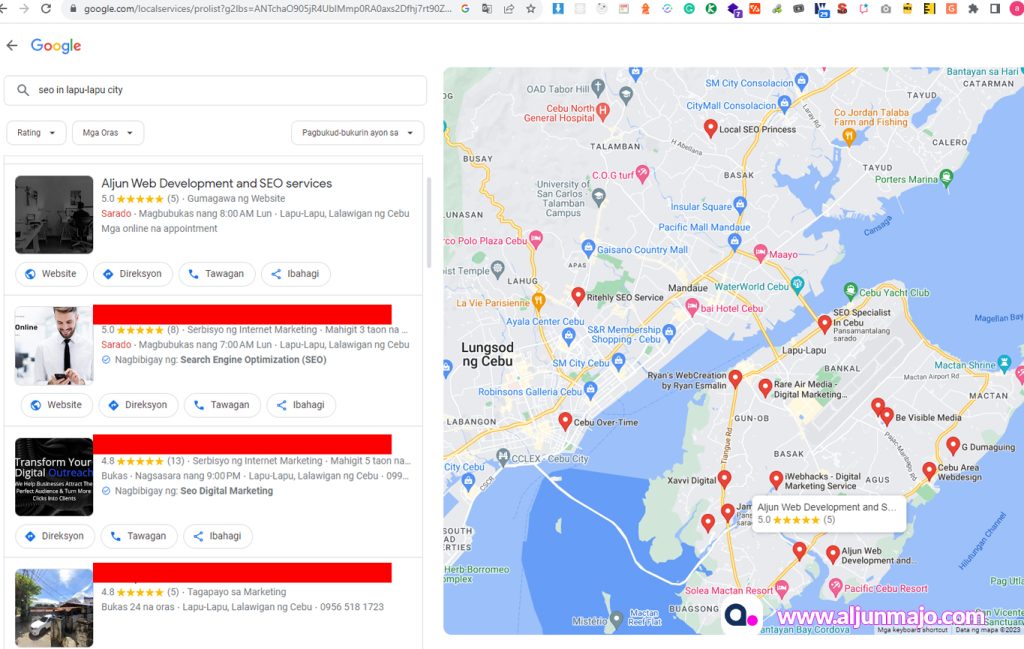 Looking for plans and pricing? Get a preview of our local SEO packages
If you are looking for affordable and effective local SEO packages by a freelancer, I'm about to give you a sneak peek of what I offer. I value pricing transparency so that you won't find any hidden costs. My package flexibility allows you to choose what suits your needs best. And the contract duration? It's all in your hands!
Benefits of Local SEO Services
Now, let's talk about why local SEO services are beneficial. They can help drive local traffic to your business, build brand credibility and trust in the community, and even enable you to compete effectively against larger corporations. Plus, they can significantly increase your visibility in local searches.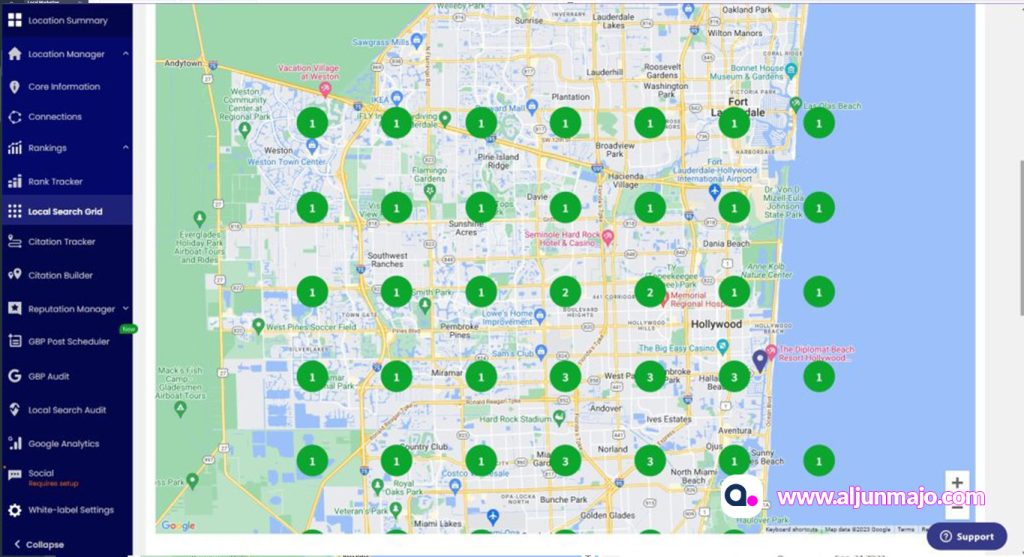 Driving local traffic to your business
I'm going to examine the benefits of using local SEO services to drive traffic to your business. The core advantage is the potential to outperform regional competition. Local SEO allows you to tap into geo-targeting techniques that can drive traffic from your immediate vicinity.
Geo-targeting techniques involve optimizing content for a local audience.
This could be through social media promotions, engaging with local influencer partnerships, or offline marketing efforts.
The result is an amplified offline marketing impact, creating a synergy between your online and offline presence.
This strategy could give you the freedom to be more competitive in the market. However, the real magic happens when these tactics build brand credibility and trust in the community, which we'll explore next.
Building brand credibility and trust in the community
Boosting your brand's credibility and trust within the community isn't just a nice bonus, but a crucial benefit of leveraging local SEO services. It's all about making connections and building strong community partnerships. Local SEO services can help manage your reputation both online and offline. They'll make sure positive reviews are front and center on social media, increasing your influence and engagement with customers.
Additionally, these services help link online and offline marketing efforts. For instance, you might host a local event promoted on social media, then see an uptick in website traffic. This seamless integration boosts customer engagement and trust in your brand. So, investing in local SEO isn't just about visibility, it's about establishing credibility too.
Increasing visibility in local searches
Through local SEO services, I've experienced a significant increase in visibility, leading to the growth in customer engagement and loyalty. What's the secret? Geolocation targeting. It allows me to reach customers right where they are. Localized advertising has also been a game changer, speaking directly to local customers in their language. I've seen a spike in social media engagement as well. Thanks to location-based promotions, my posts aren't just seen, they're acted upon. Neighborhood marketing, in particular, has been powerful. It's made my business feel like a part of the community. I've found that local SEO isn't just about being seen, it's about being part of the local fabric. Now, let's move onto the key elements of local SEO.
Key Elements of Local SEO
Now, let's talk about the key elements of local SEO. We'll start with optimizing your Google My Business, move on to local keyword research and content creation, and then cover building local citations and backlinks. We'll also discuss how to gather and manage online reviews.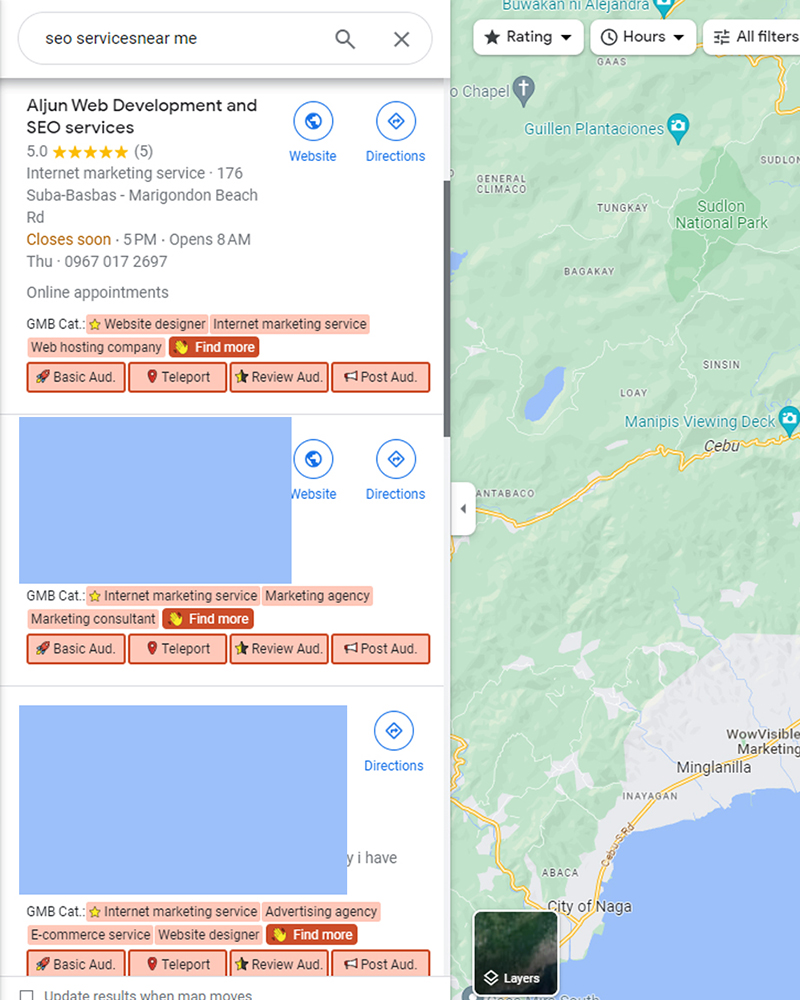 Google My Business optimization
I'm going to explore the key elements of optimizing your Google My Business (GMB) listing, a crucial part of local SEO services. There are several steps you can take to ensure you're maximizing your GMB potential:
Profile Verification: This is your first step. It establishes authenticity and boosts your visibility.
User Engagement: Respond to reviews, answer queries promptly. This shows you care about your customers.
Post Scheduling: Regular posts keep your audience engaged and informed.
Business Categories: Choose the right ones to improve your search relevance.
GMB Insights: Use these to understand your audience better.
Local keyword research and content creation
In the field of local SEO, I can't stress enough the importance of local keyword research and content creation. They play a vital role in improving your online visibility and attracting your target audience. I adopt geo-targeting strategies to identify keywords that resonate with regional user behavior. This way, I can create content that is tailored to the local audience's interests and needs, boosting engagement. When used right, location-based ads can further enhance your business's local reach. I also leverage localized social media to share this content, as it can increase your exposure among local users. Remember, hyperlocal marketing is about connecting with the local community, and local keyword research and content creation are crucial elements in achieving this goal.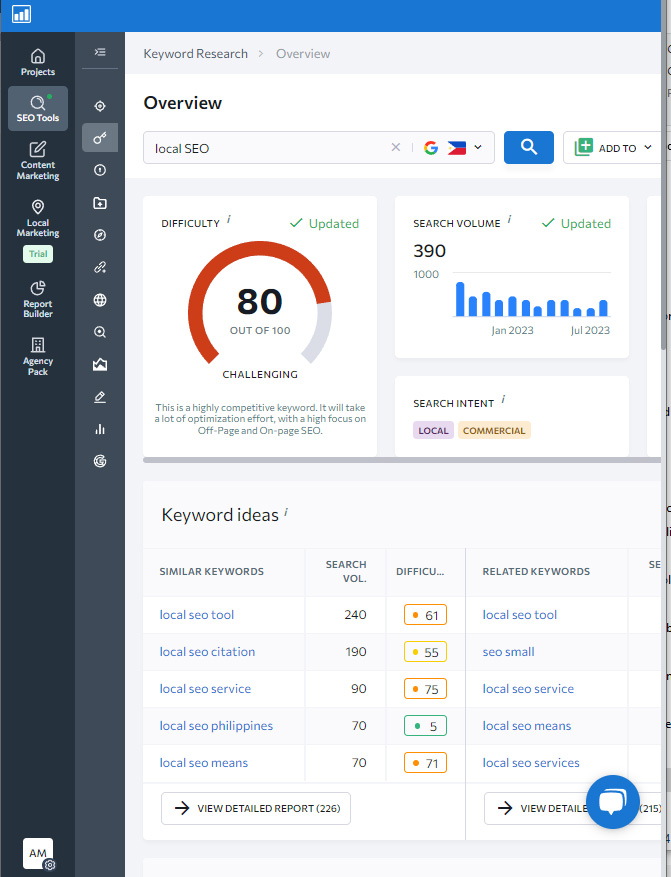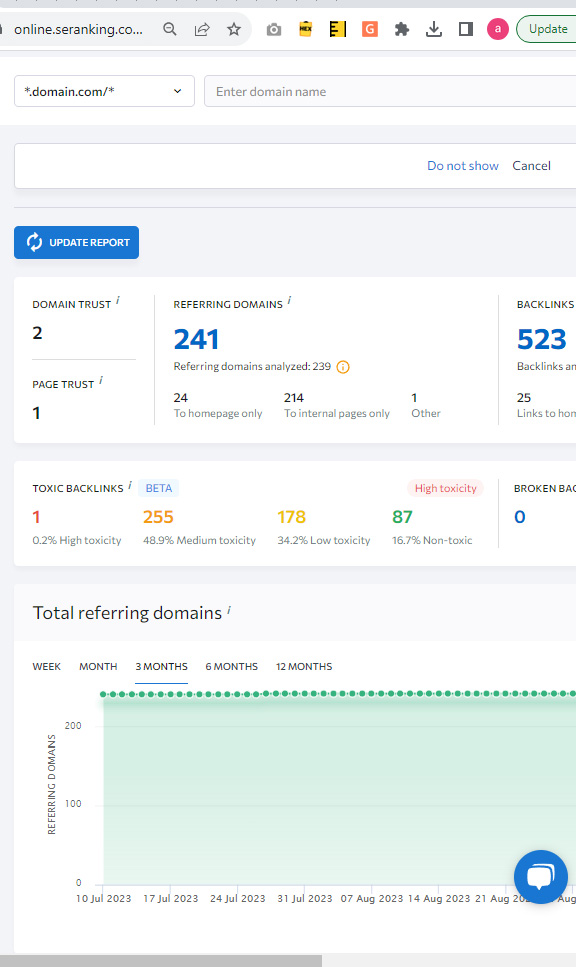 Building local citations and backlinks
Let's delve into the crucial process of building local citations and backlinks, key elements in optimizing your business for local SEO. To make the most out of this, three things are crucial:
Citation Consistency: Ensure the information about your business is consistent across all directories and listings.
Local Directories: Submit your business to directories relevant to your locality.
Business Listings: Keep your listings updated and accurate.
Backlink Quality: Not all backlinks are created equal. Aim for high-quality, relevant backlinks.
Geo-targeting Strategies: Tailor your SEO strategies to your local audience.
Focusing on these aspects not only boosts your local SEO but also enhances your online presence. Now that we've covered this, let's move onto another vital aspect – gathering and managing online reviews.
Gathering and managing online reviews
Gathering online reviews is a critical part of local SEO, and managing them effectively can significantly improve your business's online reputation. Using review generation techniques, like asking satisfied customers to leave feedback, can help increase the number of positive reviews. However, you can't ignore negative reviews. Responding to them shows you value customer feedback and are committed to improving. This also leverages social proof, which can enhance your business's credibility. A review platforms comparison can guide you on where to focus your efforts based on where your target audience hangs out. Remember, reviews impact your rankings on search engines. So, keep them coming and handle them well. Now, let's dive into on-site local SEO best practices for further optimization.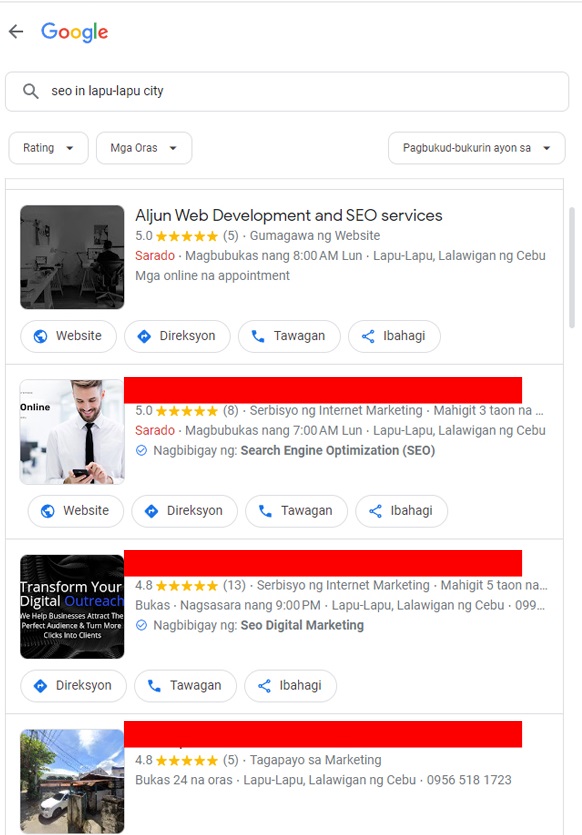 How do Aljun Majo's Local search optimization services increase website traffic?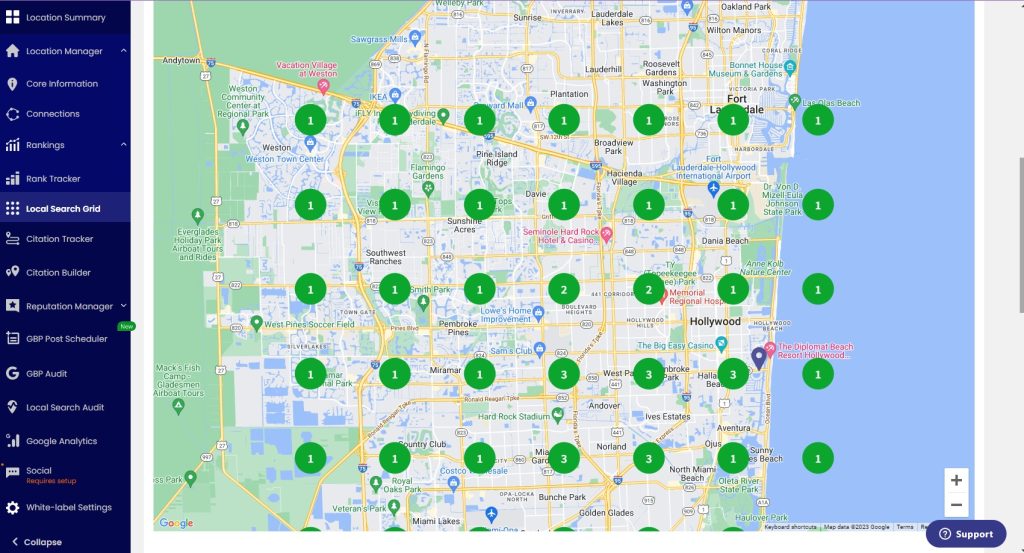 While you may be wondering how Aljun Majo enhances website traffic through local search optimization services, I'm here to break it down for you. Aljun Majo's strategies focus on local SEO techniques that target your desired audience in specific geographical areas. This makes your website more visible to those who matter most – your potential customers nearby.
Traffic enhancement methods used include optimizing your website's content and design, making it attractive and easy to navigate for users. The website optimization process also involves creating relevant local content that resonates with your audience, improving your site's ranking on search engine results pages.
The digital marketing impacts of these strategies are significant. They not only increase your site's traffic but also enhance your brand's online presence. In essence, Aljun Majo's local SEO services can give your business the freedom to grow.
On-site Local SEO Best Practices
Let's now talk about on-site local SEO best practices. A few key strategies include optimizing your meta data for local keywords, embedding a Google Map on your site, and using schema markup specifically for local businesses. These methods can significantly enhance your local online visibility.
Optimizing meta data for local keywords
I've found that optimizing meta data with local keywords is an essential step in any successful local SEO strategy. The Meta Description Importance cannot be overstated. It's your chance to entice searchers with a brief summary of your local business. It's crucial to keep your Keyword Density Analysis in check. Too many repetitions can be flagged as spam, but too few may not get you noticed.
Metadata and SERP
Use Meta Robots Directive to control how search engine bots crawl and index your site.
The Role of Geo Tags is to help search engines understand your location.
All these elements work together to boost your local SEO. In the following section, we'll delve into how embedding a Google map on your site can further enhance your local search ranking.
Embedding a Google Map on your site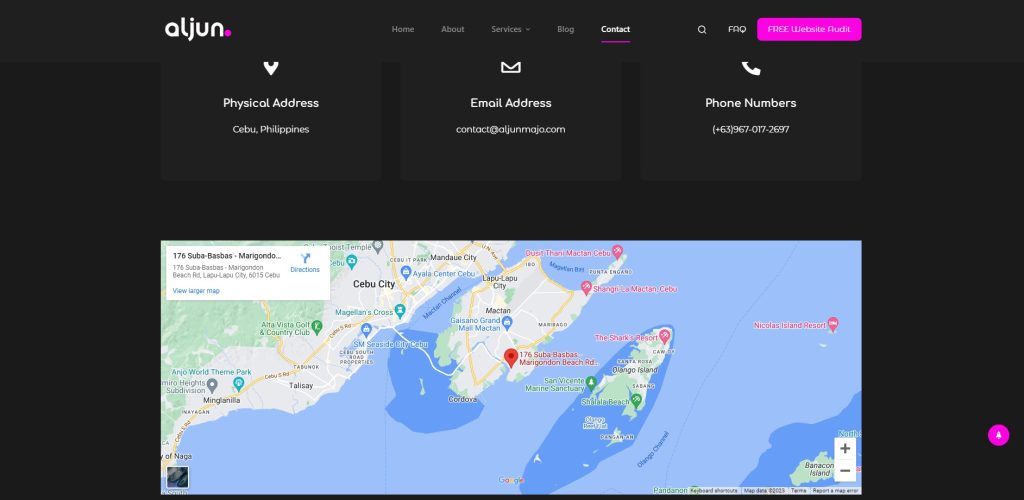 Often, I've noticed that many overlook the value of embedding a Google map on their site, but it's a powerful tool for enhancing local SEO. The numerous map integration benefits include user navigation improvement and attracting local visitors. Having a map on your site helps people find your location swiftly and effortlessly. It's also an excellent way of attracting local visitors who often look for businesses nearby.
The map customization options are another perk. You can choose to display only what's necessary for your business, making it tailored to your needs. This not only helps with user navigation but also contributes to site aesthetics enhancement. A well-integrated map can make your site look more professional and user-friendly.
Schema markup for local businesses
While we're delving into on-site local SEO best practices, it's crucial to mention the importance of schema markup for local businesses. Implementing schema, or structured data, on your website can drastically enhance your visibility to search engines. Here's what you need to know:
Schema Implementation: This is about integrating structured data into your website's HTML. Choose between Microdata or JSON LD based on your preference.
Markup Validation: Use Google's structured data testing tool to verify your markup.
Rich Snippets Benefits: These visually appealing results can improve click-through rates.
Off-site Local SEO Strategies
Now, let's shift our focus to off-site local SEO strategies. We'll explore how to build a strong presence across the web with consistent NAP, how to engage with local events for more visibility, and how to earn valuable backlinks from local sources. These strategies are key to boosting your local SEO game.
Building and maintaining consistent NAP (Name, Address, Phone Number) across the web
How can I ensure that my business's NAP (Name, Address, Phone Number) remains consistent across the web as part of my off-site local SEO strategy? The answer lies in overcoming NAP consistency challenges. Here is a straightforward guide:
Conduct a NAP Verification Process:
Confirm your NAP in all online directories
Update any inconsistencies
Leverage the Role of Social Media:
Update your NAP on all platforms
Ensure your customers find the same info everywhere
Understand the Influence on Customer Experience:
Consistent NAP in E-commerce sites builds trust
It also ensures customers can contact you easily
Engaging in local community events and collaborations for publicity
I'm a firm believer in the power of local community events and collaborations for publicity, and I've seen the positive impact these strategies can have on local SEO efforts. By becoming active in your community through event sponsorship or charitable involvements, you can create a buzz that boosts your visibility. Community networking is also crucial. It can lead to joint promotions and local partnerships that further enhance your brand's reputation and reach. These relationships not only show you're a business that cares about the community, but they also provide prime opportunities to gain exposure to new local audiences. So, don't shy away from engaging with your community—it's a win-win for everyone. Now, let's move on to another important aspect of local SEO—earning high-quality backlinks from local sources.
Earning high-quality backlinks from local sources
While we've established the importance of community engagement, it's also essential to focus on earning high-quality backlinks from local sources as a key off-site local SEO strategy. The backlink quality is important as it helps to improve your site's credibility and visibility.
Here's a simple plan to help you get started:
Reach out to Local influencers
They can mention your business in their blogs, providing a backlink.
Engage in Guest blogging
Write a post for a local blog and include a link to your site.
Use Social media promotion
Share your site's content, encourage others to share too.
Directory submissions
Submit your site to local directories, getting a backlink in return.
Elevating your online presence, one click at a time
Ready to boost your site's visibility and reach your target audience? I'm here to help. Let's take your business to new heights with my Web Development and SEO Services. Don't wait. Get in touch today!
Web Development & Technical SEO Insights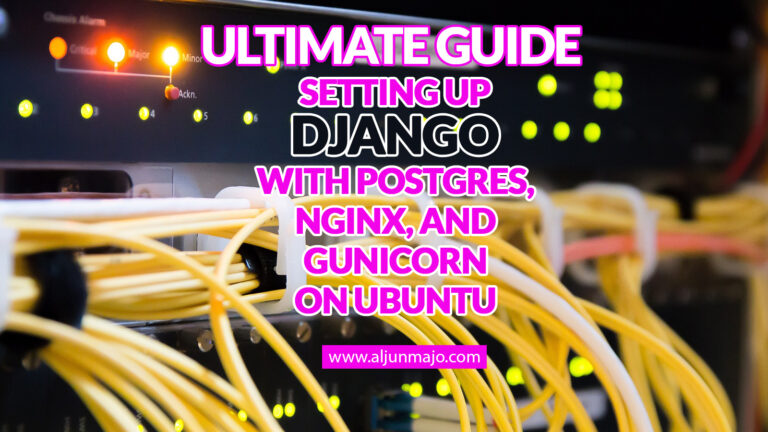 This comprehensive tutorial will walk you through setting up a Django project with Postgres, NGINX, and Gunicorn on Ubuntu 22.04. From installing the necessary software packages and dependencies to configuring the server and deploying your project, this guide will cover…
Read More

Ultimate Guide: Setting Up Django with Postgres, NGINX, and Gunicorn on Ubuntu 22.04